Camper vans are hot, especially with the wildly popular "van life" crowd of minimalists who want comfort and practicality and lots of off the grid capabilities. New models are coming out all the time.
Class B  Motorhomes built on a Mercedes Benz chassis offer the comfort and style of European luxury cars and the convenience of traveling in an RV.
RVs with Mercedes chassis come in two motorhome types: the van-like Class B and the larger, truck-like Class C. Class B camper vans offer great fuel economy and are easier to maneuver and park. Class Cs feature more interior space and amenities, while being recognized as easier to drive than the bus-like Class A.
Our campervans come in a variety of sizes and configurations depending on their purpose.
Some are designed for weekend travel, while others can accommodate simple full-time living. Some are for campgrounds, and others for boon-docking. Some are cheap, and others are not!
Mercedes Benz has the most comfortable and reliable chassis to be used as a motorhome. There is good control and maneuverability with class B motorhomes because of their size, and they are more fuel economy as well.
General Features:
Our luxury camper packs a punch in the market because it looks more like an oversized van than a camper. It has seating areas for four passengers but only sleeps two people.
You'll love the standard equipment such included as an unlimited water heater, Mercedes Benz safety Systems, LED HDTV, a power sliding door, and so much more.
This camper van comes complete with a kitchen, bathroom, a lounging area, and the largest bed in its class.
Depending on the model you choose, you will receive additional features, and may choose an option or two such a stove, fridge, toilet with shower, air conditioner, exterior shower, water filtration system, and more unless the feature or option is not available for a particular model!
VAN Specs:
Available 2016 to 2022 Mercedes Benz Sprinter 2500 Cargo Van
144 or 170 Wheel Base
2.1L 4-Cyl, or 3.0L V6 Turbo Diesel 7- Speed Transmission
LT 245/75 R16 All Season Tires
Tow Hitch with 5K Towing Capacity
Rear View Camera with Reversing Warning Device
Multimedia System with 7″ Touch Screen
Comfort Seat including lumbar support and headrest on both Driver & Passenger Seats
Fully transferable
PREPAID Maintenance Package 5 yearly services still available
Extended Limited Warranty – 5 years 100K miles
5 Year Luxury Windshield Protection Plan
BUILD Features:
Appliances:
22" LCD TV -1 pcs. -12v & 220v
Fridge 140 lt -12v – Arçelik
Kitchen with Dual Stovetop + Sink + Tap –  with Glass Covered Set (CAN)
Kitchen Glass
Gas Hose
Gas Sensor
Gas Shut off Valve
Chimstone Bench for Kitchen
Oven with Three Chamber – 220v
Insulation Values:
R16 on Side Walls R14 in the Ceiling
Electric Power:
2x 200 Watt Solar Panel
2000 Watt High Frequency Sinewave Inverter
MPPT Battery Charger 40 A
2 gel batteries 200 amps
Leakage Relay
12V , 220v & USB outlets are available throughout van
Systems Monitor Panel W/Battery Indicator
Interior Insulation
Lower Insulation
Electrical Installation 220v
Satellite System – Motorized
TV Unit (Furniture) – With Lift System – With Remote Control
Heater (Local Brand) 2 kW (7000 BTU) – With 10 lt Diesel Tank
Internal RGB LED Lighting System – 7 Colors
12V/USB Charging Port(s) – 4 pcs.
LED Interior Lighting – Ceiling & Under Overheads w Storage Compartment Lighting
LED Vanity Lighting Over Medicine Cabinet
LED Patio & Hitch Light – Switched
Wall Switched Lighting & Thermostat
Main Switch – Electrical Breaker Disconnect
Exterior 12V/220V Patio Outlet/Cable Outlet
Water System:
200 Liters (50 Gallon) Water Tank
12V Water Pressure Diaphragm Pump 20 liter per minutes (5.5 GPM) 60 PSI
95 lt Accumulator Tank
Water Heater 15 Liter (4 Gallons) of on Demand Hot Water
Outer Water Inlet Cover – Locked
Water Pomp – Filtered
Cooling System:
Deluxe Fan with Remote and White Lid
Skylight
Heating System:
Two Stage Hydronic Heating System by VanLife Tech (includes radiant heated floors with a diesel powered fan coil unit)
Kitchen:
Dual Zone Portable Fridge 101 liter double door refrigerator with 12 volt motor deep freezer
Gas or Electric Induction Cooktop
Convection Toaster Oven Airfryer option
BATHROOM:
75cm x 75cm (30″×30″) Shower
Bathroom Cabinet – with Mirror
Acrylic Bathtub
Portable or Cassette Toilet
Outdoor Shower – Hot/Cold Water
Bathroom Glass
Connectivity:
Cradle Point System installed to ensure that you have service wherever you may roam.
INTERIOR
Panoramic Roof Glass – Single (75×90 cm) (30″ x 36)
Openable Side Windows
Ceiling Hitch – 40×40 cm (Imported)  (15.75″ x 15.75″)
Laminated Furniture
Hanging Tall Cabinet
Pantry Drawer
Table – Folding
Curtains + Swatter (Imported)
Interior Upholstery – Fabric or Leather
Parquet Floor
2 Swivel seats
Exterior:
BACK VIEW CAMERA
ELECTRIC Awning
ELECTRIC STEP
Exterior Led Illumination
Shore Electric Plug – 13 Pins
Extra Folding Bench Table
Diesel Fuel Outer Entry Cover – Locked
Opaque – Metallic Paint
Dimensions:
144″ Wheelbase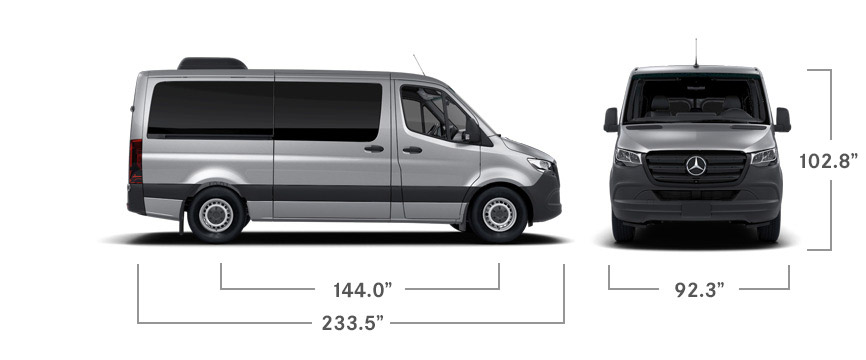 Overall Length:233.5 in (5.93 m)
Overall Width with mirrors:92.3 in
(2.34 m)
Wheelbase:144 in (3.66 m)
170″ Wheelbase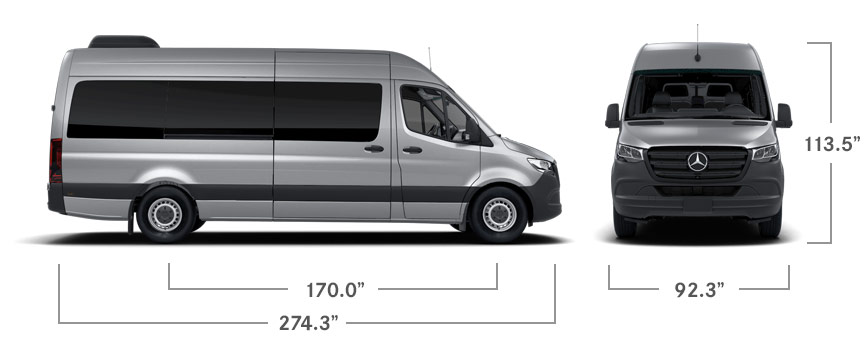 Overall Height:113.5 in  (2.88 m)
Overall Length:274.3 in (7.00 m)
Overall Width with mirrors:92.3 in (2.34 m)
Wheelbase:170 in  (4.31 m)
Powertrain:
Engine: 4-Cylinder Diesel
Fuel Type: Diesel
Displacement: 2,143 cc
Horsepower: 161 hp at 3,800 rpm
Rated Torque: 325 lb-ft at 1,400-2,400 rpm
Transmission: 7G-Tronic Plus
Drive Shaft: RWD
Emission Certification: SULEV
Injection:Common-rail direct injection (CDI)
*  The caravans shown in the photos may differ from the standard equipped caravan.
RV Travel Benefits:
Your home on the road
RVs come equipped with a wide range of amenities.
You can setup your caravan to have the convenience of home.
Take the Whole Family
Fur Babies Included! Pets love vacations, too and it's tough for kids to leave their furry friends at home.
RVs make stress-free trips for owners who don't want to board their pets and for the pets who don't like to be left behind.
Less expensive to Travel:
Caravans combine travel, accommodations, and meals into one and for less than you might think.
A caravan vacation can cost a family of four up to 64% less than traditional vacations.
Extra storage space means saving on equipment rentals, too, as you can bring along the bikes, skis, kayaks, golf clubs, and more.
And when you travel with everything, including the kitchen sink, you save on food expenses.
Keywords:
Useful Links:
Image Gallery: